Studies
The Role of NGOs in Shaping Palestinian Political Trends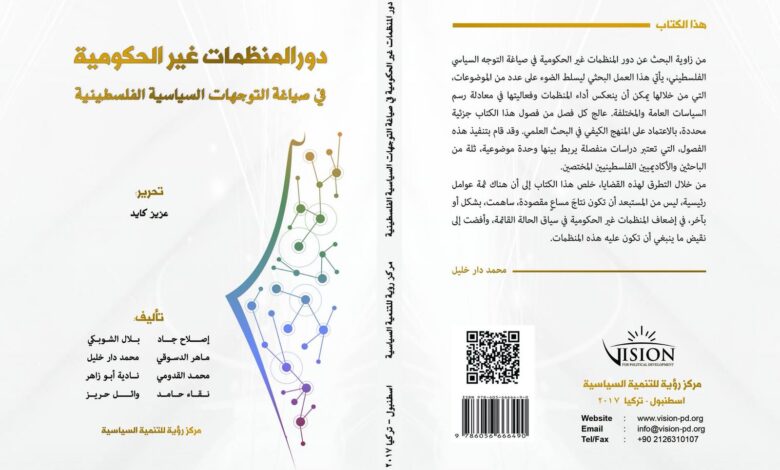 The Role of NGOs in Shaping Palestinian Political Trends
Vision Center for Political Development published a book titled "The Role of NGOs in Shaping Palestinian Political Trends" during January 2018.
This research sheds light on a number of topics, through which the performance and effectiveness of the organizations are reflected, in the process of formulating general and different policies. Each chapter tackles specific detail, depending on the qualitative approach in the scientific research. A group of Palestinian researchers, academic, and experts wrote these chapters that considered a separated study connected with the idea. The chapters are as follows:
Chapter One: The Distribution of Power Inside the Palestinian Society: The Effect of the Political System on the Power and Effectiveness of the Civil Society Organizations
Chapter Tow: The Civil and Ttaibal Society Limitiations in the Palestinian Civil Organizations
Chapter Three: The Development of the Relations Between the Palestinian Civil Society, the Movements and Political Parties.
Chapter Four: The Role of the Civil Organizations Operating in the West Bank in the Palestinian Authority's Approaching the UN"
Chapter Five: The Role of the Civil Society Organizations in Strengthening Women's Participation in the Palestinian Political Scene .
Chapter Six: The Foreign Funding of the Non- Governmental Organizations: The Rise of the Development or New Colonialism? USAID as a Model.
Chapter Seven: The Role of the Civil Society Organizations in the West Bank in the Palestinian Reconciliation Between Fatah and Hamas..
Chapter Eight: The Civil Society Organizations as a Free Political Youth Forum
Chapter Nine: The Conditional Funding and Producing the Palestinian Technocracy
Through tackling these issues, the book concluded that there are main factors that initially contributed in weakening the NGOs in the context of the current situation. Not only did they weaken the role of the NGOs ,but they also created contrary goals, as they should not be out of the context in which the Palestinian Political Trend is being shaped. Many factors played a role in the irregularity of distributing powers inside the Palestinian society. This created a weak civil society, that is unable to create an impact in performing its role and desired goal.