Reports
The Monthly Skimm (September-2021): Rules of the Game between Hamas and Israel, Advancement of Normalization, and Abbas-Gantz Meeting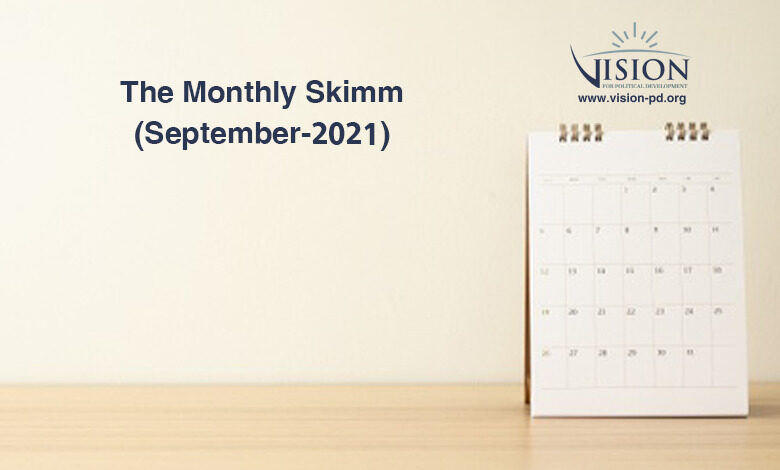 Mohammed Hasan: Researcher in Political Science
Hamas's Rules of the Game is Depleting Israel
Udi Dekel believes that Hamas and its leader have conducted themselves irrationally in its confrontation with Israel (Dekel, 2021). In his article "Hamas has its Own Logic. What is Israel's Logic?," Israel is blamed for its predictable and rational stance with Hamas. Dekel suggests that Israel should make severe changes to the rules of the game by once again closing the entrance into the Gaza Strip and/or by implementing a sustained attack on Hamas in response to Hamas's ongoing pattern of violence. Such a track would require patience and resolve but if it is not done, Hamas will continue to direct the conflict through its campaign of attrition.
The Reflections of Hamas's Victory in Social Media Campaign are still ongoing
In their study "the Unfinished Campaign: Social Media in Operation Guardian of the Walls," Orpaz and Simon-Tov have empirically analyzed the influence of digital campaigns against Israel on social media during the last confrontation with Hamas. They highlighted in-depth how the Palestinians could win the public relations campaign (Orpaz, 2021). Their analysis aimed to raise awareness among Israeli decision-makers. Both writers noted how images that have gone viral online and international public figures are capable of instantly ruining Israeli public diplomacy.
Does Israel Stand with Genocidal Regimes?
In his article "Israel's Support for Genocidal Regimes Undermines its Standing," Michael Rubin discusses how Israel's support of genocidal regimes along with its foreign policy against the Palestinians is ultimately short-sighted and costly (Rubin, 2021). Israel's political behaviors in the Palestinian territories, the unconditional alignment with the Azerbaijan (wherein the Azeri government practices racial cleansing against the Armenian minority Nagorno-Karabakh), the technological cooperation with authoritarian socialist China, and the support it offers to the Ethiopian government regardless of its assault on the northern Tigray Province ultimately undermines Israel's achievements and standing. Where Israel chooses to stand will determine its global standing.
Abbas's Meeting with Gantz: Are there any Indications?
The last meeting between Mahmoud Abbas and Benny Gantz revealed the conspicuous presence and absence of Fatah members based on the ensuing succession battle and opposing ideologies of different Fatah factions. Inbari related, for example, that the attendance of Majed Faraj and Hussein al-Sheikh (who desire an alliance with Israel) and the absence of Prime Minister Mohammed Shtayeh (who is against an alliance with Israel) were noteworthy and telling (Inbari, 2021). According to the Inbari, Abbas can show his seriousness and improve ties with the Israelis by dismissing Shtayeh and forging a new policy direction.
UAE-Israel Gas Deal and Business Advancement
Since April, negotiations have taken place between Israel and the UAE to sell 22% of the Israeli Tamar offshore natural gas field to the UAE and it was finally sold for the price of 1.025 USD. In "UAE-Israel Gas Deal (Finally) Finalized," author Simon Henderson suggested that Tel Aviv and Abu Dhabi are starting to fully realize their commercial potential.  Interestingly, he believes that Hamas's threat to attack the gas field during the last confrontation may have contributed to Israel finalizing a deal (Henderson, 2021).
Iraq and Abraham Accords
Under the risk of Iranian fury, Iraqi civil society has gathered in an unprecedented meeting seeking to join the Abraham Accords. Dennis Rose believes that the meeting signifies a vision of Iraq's future in the region. The article discussed widespread issues beyond security, including economic, digital, food aspects, and other developments. All of these issues will be established based on the US's vision for the region, in opposition to Iran's regional plans (Ross, 2021).
Taliban as an Inspiration to Jihadism
In Diker and Toameh's article "The Taliban's Palestinian Partners: Implications for the Middle East Peace Process," it is argued that the Taliban's reconquering of Afghanistan is a significant factor for reenergizing global Jihadism against the West (Diker, 2021). Accordingly, events in Afghanistan have confirmed Hamas's longstanding belief that their patience would eventually pay off. Furthermore, it supported Hamas's notion that persistent resistance engenders the possibility of dismantling Israel and defeating the Western Alliance. Importantly, they concluded that the Taliban's experience has made it impossible for Palestinian Islamist movements to agree on any peace agreement that requires Palestinian concession.
References
Ross, D. (2021). A Pro-Israel Summit in Erbil Breaks New Ground. Retrieved from Washington Institute : https://www.washingtoninstitute.org/policy-analysis/pro-israel-summit-erbil-breaks-new-ground
Henderson, S. (2021). UAE-Israel Gas Deal (Finally) Finalized. Retrieved from Washington Institute : https://www.washingtoninstitute.org/policy-analysis/uae-israel-gas-deal-finally-finalized
Rubin, M. (2021). Israel's support for genocidal regimes undermines its standing For. Retrieved from American Enterprise Institute: https://www.aei.org/op-eds/israels-support-for-genocidal-regimes-undermines-its-standing/
Diker, D. (2021). The Taliban's Palestinian Partners: Implications for the Middle East Peace Process. Retrieved from Jerusalem Center for Public Affiars: https://jcpa.org/article/the-talibans-palestinian-partners-implications-for-the-middle-east-peace-process/
Inbari, P. (2021). Why Did the PA's Mahmoud Abbas Meet with Defense Minister Benny Gantz? . Retrieved from Jerusalem Centre for Public Affairs: https://jcpa.org/why-did-the-pas-mahmoud-abbas-meet-with-defense-minister-benny-gantz/
Orpaz, I. (2021). The Unfinished Campaign: Social Media in Operation Guardian of the Walls. Retrieved from The Institute for National Security Studies: https://www.inss.org.il/publication/guardian-of-the-walls-social-media/
Dekel, U. (2021). Hamas has its Own Logic. What is Israel's Logic? Retrieved from The Institute for National Security Studies : https://www.inss.org.il/publication/hamas-reason/