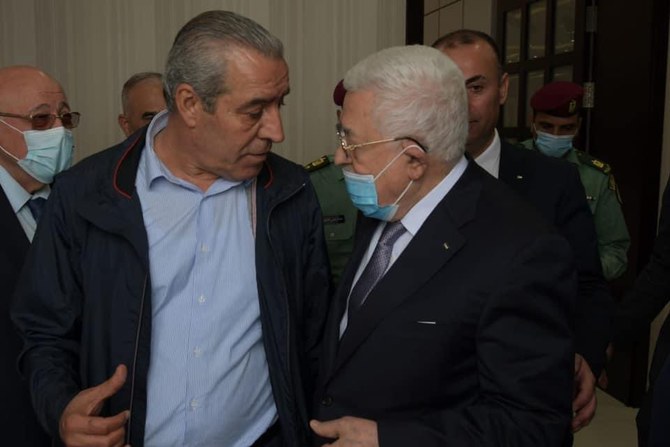 Mohammed Hassan Dar Khalil
The Palestinian internal political stability in the West Bank is strongly associated with the Palestinian President Mahmoud Abbas, who is 86 years old and is still reigning on the throne of the Palestinian Authority (PA) and the Palestinian Liberation Organization (PLO) since 2005.
It was reported in more than one occasion on Abbas himself during meetings with foreign press men that his father lived for 103 years, alluding that he might inherit that longevity gene from his father, which allows him to remain more in power. It seems that he has lately been acting based on that piece of information especially that he did not handled the issue of his departure with anticipated seriousness. However, some recent indications point to Abbas's preparedness for leaving the political scene through either of the following moves:  granting the Central Council the powers of the National Council; studying the idea of granting the Central Council  the powers of the Legislative Council; referring the General Secretary affairs of the Legislative Council to the presidency of the National Council; in addition to assigning Hussein al-Sheikh as an Executive Committee member in preparation for granting him the title of General Secretary of the PLO Executive Committee.
Abbas has lately been struggling with some health issues which, considering his age, highlights the probability of his departure from the political arena at any moment. This creates a vague status, which invites researchers interested in the Palestinian political affair to study this dilemma in order to find answers to pivotal questions on the cloudy future of the Palestinian political situation. However, issues might get aggravated if Abbas's departure took place without pre-planned gap-filling arrangements in light of the long-lasting Palestinian political division between Fatah and Hamas movements, on one hand, and the violent competition over power among Fatah political trends, on the other. In addition to the Israeli occupational greed to achieve more of its liquidation of the Palestinian cause via a more effective way that goes in line with its objectives.
Within its exerted efforts to contribute to resolving and offering recommendations for the Palestinian ongoing issues, Vision Center produced a political simulation that would clarify the ambiguous future situation after Abbas's departure. This work attempts to analyze future scenarios after Abbas. A group of political experts capable for analyzing the situation from the point of view of the powers dominating the Palestinian political arena took part in this simulation study.
General outputs:
President Abbas is playing a key role for the fact that he owns everything, which makes it impossible to conduct presidential or legislative elections while he is maintaining his grip on power.
The most powerful competition over power will be witnessed between Hussein al-Sheikh and Jibril al-Rejoub.
Presidency will go to Marwan al-Barghouti only if transfer of power followed fair elections.
If the gap gets filled soon after Abbas's leave, no elections will be held because results would not be guaranteed.
Power transfer process will follow illegal arrangements. This is because the PA indeed held a Central Council session after it had seized the power of the National Council.
An internal conflict will emerge among Fatah and PA leaders after a quick filling of the gap.
If filling the gap takes a long time exceeding one year, for example, the President will get the opportunity to accomplish his preparations, which strengthens the probability of taking power by Abbas's trend in Fatah movement (Hussein al-Sheikh and Majed Faraj).
If power gets easily transferred following non-electoral procedures, then al-Sheikh will get a greater opportunity compared to his competitor al-Rejoub.
The relation between the PA and the UAE could lead to the return of Mohammed Dahlan to the Palestinian political arena; any mediation by gulf countries may succeed to contribute to his coming back, especially following a potential political deal after Abbas's departure, leading to his anew integration within Fatah's internal system and the Palestinian political structure.
It turns out that Hamas movement has no interests for competition over filling the gap and accordingly will not play an effective role in the transfer of power, even though being capable for performing marginal roles.
Palestinian left parties will not affect power transfer except for playing some secondary roles.
Egypt perceives the continuation of the PA as a must because it constitutes a political body representing Palestinians. The Egyptian role will be revealed in its efforts for and keenness on a smooth transmission of power to another president who is got more support as well as the consensus of national and international powerful bodies; however, a Fatah leader would be definitely preferred.
Israeli government looks forward to guaranteeing a secure transmission of power after Abbas. Therefore, maintaining the PA stability and preventing confrontations among competitors over power especially inside Fatah as well as restraining internal struggle that would lead to violent practices that affect the Israeli occupation would be among Israel's top priorities.
Some indications point to the idea that Israeli government bets more on Al-Sheikh's political trend, providing for the necessity of coordinating power transfer with the PA's President himself. This is because, being loyal to Abbas, al-Sheikh's political trend will continue to serve Israel in the stage that follows the president's departure whereas the PA's role and place will be maintained especially in terms of security coordination.
The US administration along with Israel is awaiting for Abbas's leave and getting well prepared to support an accepted successor, who is got to gain the consent of Fatah movement in order for the movement to obtain the support of the PLO Central Council. Thus, the US will approve the successor who is agreed upon by Fatah movement and granted power without elections.
Major scenarios after Abbas's departure:
Smooth transmission of power scenario: this scenario includes two facets: the first is that abbas's successor will be a Fatah leader who will be granted power following preplanned arrangments; in this case, al-Sheikh would have the greatest opportunity to lead the PA. The second, however, is the situation whereas Abbas's successor will be a Fatah leader who is got the consensus of Fatah organizational leadership, which would increase the chances of al-Rejoub to lead the PA.
Propmoting factors:
Democratic elections have lost its legitimacy power in Palestine.
The powerful bureaucratic body among the PA is the most influential factor of inheriting the PA's presidency.
Abbas's arrangements for his successor support the most loyal Fatah's political trend; particularly al-Sheikh, who would be assigned as member of Fatah's Central Committee then the PLO's Secretary.
Al-Sheikh has got the acceptance of the US adminstration.
He has been running, for the longest period in the history of the PA, the Civil Affairs Department, responsible for coordination between the PA and Israeli civil authorities.
Israel prefers a personality which maintains the current representation of the PA, which means authority with no policy.
Al-Sheikh has strong connections with the PA's security authorities, which indicates that official, legal and military powers are all on his side.
Palestinian factions has weak impact on the process of transfer of power.
The blockage on the way of the Palestinian reconciliation and accordingly the decline of al-Rejoub's chances of leading the PA because of his exerted efforts in this regard.
Hindering factors:
Exerting efforts internally within Fatah movement to prevent a smooth power transfer to al-Sheikh, where the most prominent role would be played by al-Rejoub.
Al-Rejoub would follow certain procedures that may hinder moving power to al-Sheikh such as bringing about a state of chaos.
Al-Sheikh would not choose to confront Fatah's political trends if they prohibited his taking over power, especially in case of their resort to military forces, unless the PA's security authorities supported him.
Abbas's schemes would fade away after his departure, allowing for the emergence of hidden arrangements.
The smooth transfer of power might unexpectedly lead to consequences that contradict al-Sheikh's chances and accordingly increase those of al-Rejoub, especially if Fatah's Central Council agreed on a different successor to Abbas, while taking into consideration the popularity of al-Rajoub which overweighs the popularity of any of his competitors.
Struggle or chaos scenario: this situation may prevail at the Palestinian political scene if al-Rejoub decides to prevent transferring power to al-Sheikh. It may involve armed clashes that might lead to internal fight, mainly in refugees' camps and in the southern West Bank.
Promoting factors:
The absence of Palestinian historic leadership allows for competition over power among different political trends.
The existence of many political peers with convergent power sources.
A decline in al-Rejoub's chances of leading the PA, compared to al-Sheikh, would enhance him to work on strengthening his situation even though he might not inherit Abbas.
Internal division within Fatah on the most appropriate Palestinian successor to Abbas.
Fatah various political trends may exploit al-Sheikh's tendency towards peaceful transfer of power, as an alternate choice to confrontation, in order to hinder his taking over power.
Al-Rejoub is a powerful rival figure in Fatah and he is capable of ruining any power transfer arrangements in case of being excluded.
He is got a huge support from his backers especially in the southern West Bank and in al-Khalil city particularly.
Hindering factors:
Israel has real concerns over a chaos situation where it would be so hard to control.
Feasibility will always be taken into account when it comes to bringing about chaos.
Fatah political trends will bear in mind that chaos would draw back their chances of leading the PA, which on the other contrary might be obtained from giving up power peacefully.
Fatah's concerns over taking control of the PA and the Palestinian political system by Hamas movement, a strong motivated political rival.
The keenness of regional and international authorities which have key roles in the Palestinian political arena on preventing the emergence of a new chaos field in the troubled region.
Troika scenario: unaccepting a smooth transfer of power to Abbas's successor and at the same time failing to approach a mediate solution whereas power gets distributed to different Fatah political trends.
This scenario is unlikely to occur due to many reasons; most prominently the fact that this situation threatens Fatah's internal unity and enhances regional interference in the movement's decision making process. Besides, the PA's division leads to divided resources, which ends up with a new internal division in the Palestinian situation that would largely affect Fatah and put the movement in a more powerful factional confrontation.  
Democratic elections scenario: running democratic presidential elections.
Again, this scenario is far-fetched scenario because of the US veto against any democratic elections that would repeat the same outputs of 2006 legislative elections. In addition, Fatah leadership will avoid any democratic process that would serve rival factions such as Hamas and other Palestinian parties or that would even lead to the victory of Marwan al-Barghouti who accepted to run for the president against Abbas.
Moreover, recent statistics point to a decline in the popularity of Fatah movement such as its great loss in Birzeit University when Hamas student bloc had won a landslide victory in the Student Council elections, added to its successive losses in a number of union and student council elections. Furthermore, the currently prevailing political environment facilitates smooth power transmission based on no elections, for the fact that President Abbas, in light of political division, has already contributed to replacing real democracy with bureaucratic power as a "legitimate" PA leadership. 
.